Posted by ASDUpdates on March 6th, 2014
This article comes from BehindMLM.com:
Quick Pay Group (also known as Qpay) is set to enter pre-launch in April 2014. In its official compensation plan material an expected launch date is set for July 1st, 2014.
Quick Pay Group claim to be based out Belize (a known tax-haven) and list a "Larry Jones" as the company's CEO and Founder. No specifics about Jones are provided, other than the following vague marketing copy:
Mr. Jones has a decade long experience in Corporate Management. Serving a multi-national corporation, for which he was responsible for management of Global Expansion and Outreach programs.

His experience has gained him profound practical knowledge and understanding of factors that drive business growth and development. He has helped numerous individuals, from various financial, educational and racial backgrounds, become successful by realizing their true potential.

With QPG, Larry Jones aims to take these endeavors to a whole new level to broaden the outreach of opportunities that lead to success.
A lot of Quick Pay Group's official marketing material is in British pounds, and their "Chief Operation Officer & IT Senior Adviser" is listed as a "Jasbir Singh Awapal"
I don't know what it is with Indians, England and fake-sounding Anglo-Saxon names, but I'm going to have to flag "Larry Jones" as likely to not be a real person.
Jasbir Awapal on the other hand appears to be an actual person, and is responsible for building the Quick Pay Solutions website. Hidden in the source-code of the Quick Pay Solutions website is a link to Awapal's web-design company:
Based out of New Delhi, India, Awapal Solutions provide "MLM softwares", one of which is an "investment plan MLM software".
On his Facebook profile, Awapal lists himself as the Director of Awapal Solutions: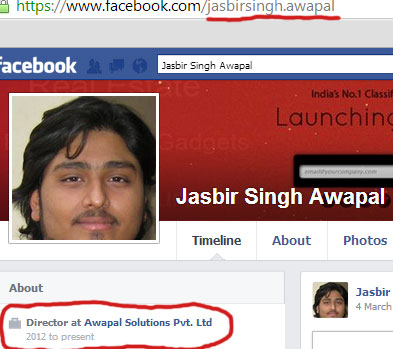 Call me cynical but I'm going to suggest that the reality behind Quick Pay Group is that Awapal is running it out of India, possibly with an additional partner or partners unknown.
The Quick Pay Group website domain ("qpay.biz") was registered on the 14th of October 2014, listing a "Moise Thomas" of "Quick Group Ltd" as the domain owner. An address in Belize City is also provided.
Who Moise Thomas is and what his relationship with to Quick Pay Group is remains unclear.
Read on for a full review of the Quick Pay Group MLM business opportunity.
Tags: Clones, Group, pay, Quick, Rewards, Zeek
Posted in HYIP, Online Marketing, Pyramid Schemes, Scams, Zeek Rewards Clones | No Comments »